Deep Pore Blackhead Vacuum Remover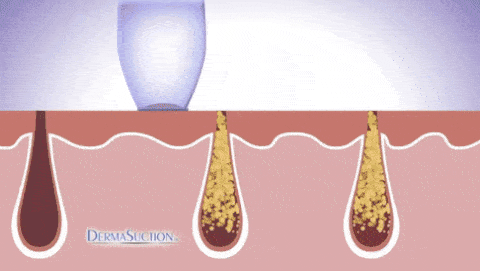 Blackheads... when not treated right, not only can cause itching, but can also have bad permanent effects on your appearance and leave lifetime marks. Everyone agrees, we don't want to be there...
"Can I just instead squeeze blackheads & whiteheads to make it go away?"

The answer is NO. You should NEVER use your hands to squeeze & pinch blackheads & whiteheads as it will worsen the condition and may cause skin inflammation & infection.
IN FACT, squeezing & pinching blackheads & whiteheads widens pores, increases oil production, increases sweating, destroys skin, and causes dermatitis.
"What is Deep Blackhead Remover Vacuum Pore Cleaner?"
The Deep Blackhead Remover Vacuum Pore Cleaner is the proper tool to remove blackheads, whiteheads, acne, & grease. It deeply cleans the face, and is suitable for treating dry skin, sagging skin, dull skin, and also wrinkles!
The vacuum function cleans dirty pores through suction and increases blood circulation in the skin.
Comes with 5 changeable beauty heads, which can offer different functions and offer a deeper clean for your face:
Elliptical Hole Head: It can scrub and exfoliate dead skin cells, and suck it out. It also does repair skin, and remove wrinkles & acne without hurting the skin. Use it around any area on the face except the area around the eyes.
Big Hole Head: With strong suction, it can remove blackheads & whiteheads effectively, promoting blood and lymphatic circulation, letting the skin rejuvenate again. Use it around any area on the face except around the eyes.
Small Hole Head: Suction is weak, which can be used to remove blackheads & whiteheads at the sensitive area such as the area around the eyes.
Oval Hole Head: Makes skin firming, removes fine wrinkles, yet increases skin elasticity. Suitable for the canthus, the corner of mouth, and other areas where it is easy to have fine lines. Thoroughly works to prevent the growing of wrinkles.
Microcrystalline Head: Exfoliates dead skin cells, and offers micro-lift massage to brighten and tender your skin.
Features:
Solves coarse pores, rough skin, and dark pores of the skin.
Exfoliates dead skin cells, blackheads, whiteheads & grease.
Firms and improves skin elasticity.
Easily removes blackheads & whiteheads.
Removes dirt & grease inside the pores.
Reduces dead skin and fine lines.
Massages and tightens the skin.
Built-in 500mAh Battery.
Rechargeable USB charging.
Tips:

✔ Please don't suction on the same area all the time, it will make the skin swell. If the skin swells, stop using immediately.

✔ Before using the product, use hot steamer or hot towel or blackhead remover gel/cream on your skin for 5 minutes to completely open your pores first to ensure the best performance of the product.
Package Includes:
1 x Blackhead Remover
5 x Probe
1 x USB Charge Cable
1 x Facial Cleansing Pad
1 x Pack of Isolation Pads
1 x User Manual
If you have any questions about the product, please contact us.
Shipping:
Most orders leave our warehouse within 24-72 hrs.
Once your package has been scanned & has generated tracking information, you will be notified via email with each & every recent status update.
If possible, please include your mobile number in your shipping information so that the package courier can contact you in-case there is no one in your household when your package arrives. Mail theft is continually on the rise, so we need to make sure everything is in order. Most importantly, sometimes your package will be held at your local, or main post office branch for you to pick up. Your contact number is important.
Processing time: 1-3 days
Shipping Time Estimates: 5-7 days from dispatch (US delivery only), and 10-20 business days for other countries.
For what reasons can I return an item?
DEFECTIVE - items not working properly or malfunctioning
NOT AS ADVERTISED - any description that does not match with the physical item
WRONG ITEM - you received an incorrect product
DAMAGED - broken items, broken pieces, etc.
Change of mind, or if you bought the wrong size, is NOT applicable as a return reason.
For complete details, read our Shipping Information and Return/Refund policies.